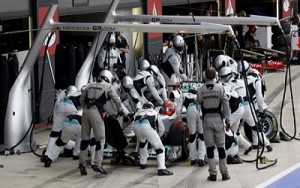 High performance teamwork is a vital factor in getting things done and achieving excellence. Lewis Hamilton won the British GP this weekend, but he did it as a result of his support team and preparation being excellent. Unfortunately the same cannot be said of Renault's Jolyan Palmer, as his crew tried to send him with only three wheels on his car after a pit stop.
Knowing who does what, where, when and how, is the foundation of what can be assessed and improved to gain progress in your organisation's results.
When a team is aware of all parts of a process, then there can be a real analysis of what areas can be improved and developed to add value and remove waste.
At IiE, our Business Improvement Toolkit contains methodologies to allow significant impact across your organisation. The ability to tailor specific solutions to your organisation's needs is a strength IiE has built over the last twenty years.
Lean
All organisations have potential waste in the way they operate. The ability to identify these areas of waste, and visualise the best way to reduce and remove waste is a specialist skill that we use to help your organisation. 'Lean' approaches create greater value for customers through the utilisation of fewer resources. Our proven Toolkit and expert approaches will enable you to do this through targeted and measurable improvements that produce sustainable value and positive returns.
Six Sigma
By choosing IiE's solutions for coaching people to deliver successful projects, using statistical tools for analysis, or a combination of these, you will find yourself in safe hands.
We utilise a range of proven approaches, including:
DMAIC (Define, Measure, Analyse, Improve, Control) – recognised as a world-class approach to improving processes and solving problems
Disciplined project management to provide a powerful structured approach that will drive sustainable process improvement
Building High Performance Teams
Your organisation is a reflection of your people. When these people work together in the most effective way, the resulting high level of performance will give enhanced results that will sustain a true culture of excellence. Teams that use Lean to reduce waste, and Six Sigma to improve consistency of quality, are proven to deliver huge returns on investment over a prolonged period.
IiE would be delighted to tell you more about how our specialists can help you.