PLANit Global Launch Excellence in their Business
April 25th, 2017
PLANit Global ready to launch Excellence in their business while launching an innovative online careers platform to schools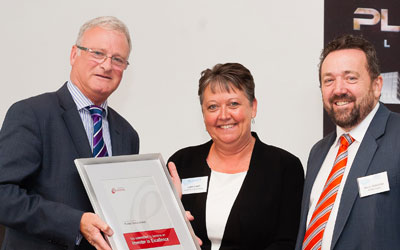 PLANit Global's business model is being strengthened by their commitment to Investors in Excellence with a mission to build local connections between young people and companies in their area. The company works closely with schools to complement their existing careers advice and guidance, recognising that they won't always have the time and resources to guide their pupils and students as much as they would like.
No better time than to ensure their own business is developed on an excellent platform, PLANiit Global has become the latest organisation to give their commitment to become an Investor in Excellence, whilst IiE is one of the first organisations on their innovative careers platform to endorse this opportunity for the next generation.
Judy Hart, IiE's Chief Executive said "We are very pleased to be working in this collaboration. Commencing a journey to excellence is never too early. We hope to instil the principles of excellence in the next generation and see them take those principles in to their future workplace".
After many months trialling its innovative careers exploration platform with young people in the West Midlands, PLANit Global is rolling it out to schools across the region offering a real alternative to students as well as careers advice and guidance staff.
"It's arguable that there's never been more information out there for school and college students looking to make career choices, so you'd imagine young people should have no problem finding out about careers to suit them," said David Darlaston, the Wolverhampton-based company's co-founder and CEO.
"But it's not that simple. Students and pupils we've talked to don't always connect with the current provision, especially what is available online. They want to find out about companies local to them, and hear from real people doing real jobs that they can aspire to."
Jayesh Patel is Careers Coordinator on the Senior Leadership Team at Hodge Hill College in Birmingham, one of the schools closely involved with trialling the PLANit Global platform with its students.
"PLANit Global is something that our students will be able to use on their own, wherever they want, whenever they want," he said. "We're looking to use it as a resource alongside other activities like visits and careers days.
"The students really liked the focus on local companies, and the fact that they could find out from real staff what careers were available at the business and what it was like to work there. Most of the other online sites only feature big multinational companies which can often seem a little remote to 11 to 15 year olds."
PLANit Global offers a much more immersive experience and gives businesses, of whatever size, the chance to present a much more 'human' face to young people.
"We're really excited about the businesses that are signed up the platform," added Jayesh. "It's going to be a great resource for our students."
Well done to PlANit Global for taking the initiative. If you'd like to find out more, visit www.planitglobal.co.uk or call 01902 824212.
---
Get in touch
Resources