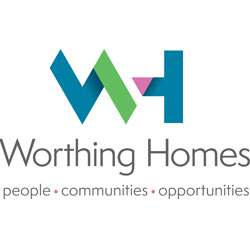 On The More Excellent Way
Background
With 10,000 customers in the Sussex coastal area, Worthing Homes is committed to providing great homes and nurturing communities. It offers affordable rented homes, key worker accommodation, low-cost shared ownership, sheltered housing and new homes for local people.
Having committed to the Investors in Excellence Standard, the organisation has been supported by IiE in defining What Matters Most. The next step is to train staff as Excellence Champions, while support for organisational development is ongoing.
Worthing Homes is already on The More Excellent Way.
Jackie Bligh, CEO, explains why Worthing Homes turned to Investors in Excellence.
"At Worthing Homes we remember we are here to deliver our core purpose: it's our social purpose to do the very best for our residents, to deliver as much as we can, and provide good affordable housing. We have constraints but we are role models in building sustainable futures. We need to consider even the complex needs of our residents.
To deliver this huge responsibility at a time where we have a reduced number of properties following Right To Buy we need an organisation that is agile, flexible, innovative and efficient.
We desire to be a learning organisation so we can perform better and better, sharing what we learn with residents, board, stakeholders and growing our staff capability. That's why we turned to Investors in Excellence to provide support and structure.
I did want to look at frameworks that will help us as a business on a change journey which is where Investors in Excellence (IiE) comes in. IiE is business-led and asks us to be clear about 'what matters most' to us as leaders in the organisation. Along with my fellow Directors, we are very keen to introduce this to the business. It will not be an add-on."