IiE's programmes support businesses throughout the rail sector, including operating companies and supply chains.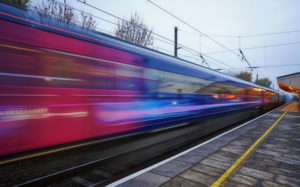 Addressing wide-ranging challenges, we help the sector to meet growth targets while delivering high-quality, cost-efficient and safe services.
Our structured, co-ordinated solutions are tailored to organisations' specific needs, enabling them to achieve a range of strategic outcomes which include:
Improved all-round performance and operational excellence
Putting rail-users at the heart of their activities
Increased customer and people satisfaction
Developing a proactive and responsive culture
More effective routine operations and planning
Joined-up decision-making at all levels
Improved asset management
Reduced risk and increased safety
Our practical, flexible solutions and rigorous evaluations turn best practice into common practice while maintaining a sharp focus on what matters most.
Delivery is via our Connected Excellence suite of solutions and the IiE Standard, our unique improvement framework that provides a clear roadmap to achieve high performance.
Areas of focus include the development of management teams and leaders at all levels.