The strategic partner of choice for the housing sector
Why Investors in Excellence?

" Investing in excellence – it's the golden thread that runs through our organisation. It has been a great source of inspiration and motivation, instilled a clarity and rigour; right now given the sectors need to mitigate risk and deliver effectively it's important to be independently validated. " Sue Lock CEO, Wulvern Housing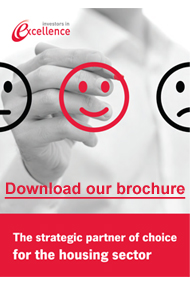 Welfare Reform, Universal Credit, Right to Buy and much more is challenging the housing sector. Now, more than ever, housing associations have to perform at the top of their game to achieve the credibility, stability, and viability expected by their regulators, tenants, funders, boards, scrutiny panels as well as their beneficiaries – Download brochure here.
With 20 years experience, commercial expertise, and a proven track record in business transformation and performance, with over 10 years working with the housing sector as a key sector focus, we are the strategic partner of choice nationwide.
A strategic partnership with Investors in Excellence – combined with certification to our globally-recognised Standard – brings with it a host of significant benefits for every housing association seeking to deliver and succeed in these unprecedented times:
External scrutiny and recognition
Performance validation
Holistic, evidence-based analysis
Robust business assurance
Cost-effective solution
Access to best practice
Empowered, engaged, and upskilled staff – your organisation's greatest asset
How do we do it?
By getting to the very heart of 'what matters most' for your organisation and helping you accomplish this, and much, much more.
What next?
Read more on our services, lean and process efficiency improvement, housing certification service, business assurance diagnostic…
Or contact the IiE Team on +44 (0)121 746 3150 or complete our form to find out how we can help your organisation.
Get in touch
Why Us
Customer Stories
Resources