The Challenge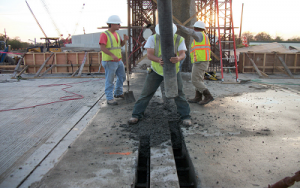 Low productivity continues to be a major issue for the construction industry which needs to balance widespread demand for increased output with continued profitability, quality and competitiveness.
With limited ideas about how it should be addressed, it's now widely recognised that a fundamental rethink is needed.
How Investors in Excellence is helping
Through its long-standing involvement with the construction industry, IiE is facilitating this rethink and working in partnership with businesses to transform their operations.
We've already identified millions of pounds worth of savings for construction firms and we're continuing to support the sector in tackling the ongoing productivity challenge.
Addressing the findings of KPMG's recent report on productivity (Nov 2017), IiE's work helps to develop two of the principal drivers of productivity by providing ready access to best practice management techniques and equipping the construction workforce with new productivity skills.
We help construction companies of all sizes to identify and focus on what matters most to them, aligning people and processes to increase efficiency and productivity while also delivering key objectives.
Getting started
Construction companies can find out more through one of our free consultations which can be booked by calling 0121 746 3150 or emailing iie@investorsinexcellence.com.
Please also ask for a free copy of our 20-Point Productivity Plan.
Click here for details of our latest best practice session for Built Environment Hub members.
Get in touch
Built Environment Articles
Productivity Articles
Why Us