An excellent 25th year for leading Latvia Business School
August 8th, 2017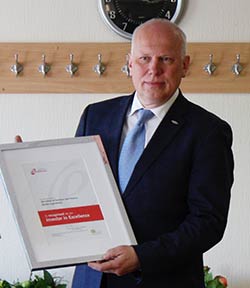 One of Latvia's leading business schools has attained the Investors in Excellence Standard for the fourth time.
The Banku Augstskola (BA) School of Business and Finance was founded in 1992 as a banking college and achieved higher educational institution status in 1997. Now in its 25th year, it has plenty to celebrate!
Currently offering various levels of study to more than 1,400 students, the college collaborates with academic and professional industry leaders throughout Latvia and worldwide. It first adopted the Investors in Excellence Standard in 2009 and has employed its principles as a measure and guide for organisational strength ever since.
Dr Iveta Reinholde, who carried out the Investors in Excellence assessment in Riga, noted how the college has been able to tackle challenges while "accumulating capacity for sustainable growth and business development".
This year the college also received accreditation from the Latvian Ministry of Education and Science, which has commissioned all study programmes in the School of Economics for the maximum term of six years.
Professor Andris Sarnovičs, rector of BA School of Business and Finance emphasised the importance of the Investors in Excellence award, as "an external evaluation providing high-quality assurance, as well as driving continuous performance improvement".
Judy Hart, chief executive of Investors in Excellence, said: "Sincere congratulations to all at BA School of Business and Finance in this very special year.
"The college is one of several organisations in Latvia to have adopted the Investors in Excellence Standard as a tool for business assessment and self-improvement to deliver high performance in all areas of their business. We are delighted that it is proving so successful."
---
Get in touch