Constructing Excellence – free best practice session
May 21st, 2019
Constructing Excellence's Best Practice Club for the East Midlands, which is supported by IiE, continues on Tuesday, June 11th with a free session on Mental Health Care.
The presenter will be Jo Bekis, Pick Everard Change Management Consultant and Mental Health Care First Aider.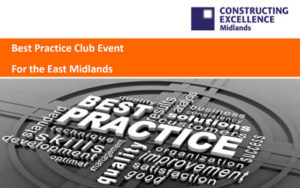 Rob Sharman of G F Tomlinson will also provide a short update on Constructing Excellence Midlands and the East Midlands Club.
There will also be an update from Nottingham City Council on the Construction Industry Peer Scheme (CIPS).
Running from 8.30 to 10.30am, the free session takes place at Donnington Court, Pegasus Business Park, Beverley Rd, Derby, DE74 2UZ.
More details can be viewed here. Places are limited and must be booked in advance by emailing: ceeastmidlandsclub@pickeverard.co.uk
Helping to drive innovation, best practice and increased productivity, IiE has a long-standing involvement with the construction and property sectors – find out more by clicking here.
---
Get in touch