The team at one of the UK's largest hospices is taking care of excellence, with a helping hand from IiE.
Based in north Staffordshire, Douglas Macmillan Hospice aims to deliver an exceptional service for patients and their loved ones.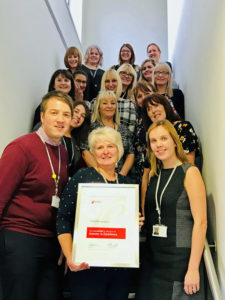 Having committed to excel in all areas, 'Dougie Mac' is working with the Investors in Excellence Standard "to be the best it can be".
This was the resounding message of the first group of excellence facilitators who are being trained on tools and techniques to deliver excellence right across the organisation.
A team of 16 Champions will work with three Excellence Practitioners, inspiring colleagues to focus on their areas of work and a charter for excellence.
The IiE Standard reinforces the hospice's values of 'CARE' – Compassion, Accountability Respect and Excellence – and the approach is fully supported by chief executive David Webster and the board of trustees.
"Our fantastic and dedicated team of staff and volunteers have made their own personal commitment to this journey," said David.
"This gives reassurance to our board that excellence is at the very heart of the hospice. It's also a way to ensure our unsung heroes receive some well-deserved recognition."
IiE's CEO Judy Hart said: "Dougie Mac is benefiting from our flexible approach which is always tailored to suit customer needs and deliver the best and most sustainable outcomes.
"The team is very determined to be the best they can be and we look forward to seeing the results."